Essay About Mexicos History In World Cups
Kezahn
/
This is a record of results at the FIFA World Cup. The World Cup is the premier competitive international football tournament, first played in 1930, whose finals stage has been held every four years since, except 1942 and 1946, due to World War II.
The Mexico national team has competed in the tournament since the inaugural 1930 FIFA World Cup, and has entered ever since, for a total of 15 tournaments, although it has failed to qualify for the finals proper on 3 occasions, 1934 (Italy), 1974 (West Germany) and 1982 (Spain). In addition, it withdrew from the finals in the 1938 (France), and was banned by FIFA from entering the 1990 (Italy) after having been found fielding over-aged players during the 1988 Olympic Games qualifiers which was a youth tournament.
The tournament consists of two parts, the qualification phase and the final phase (officially called the World Cup Finals). The qualification phase, which currently take place over the three years preceding the Finals, is used to determine which teams qualify for the Finals. The current format of the Finals involves 32 teams competing for the title, at venues within the host nation (or nations) over a period of about a month. The World Cup Finals is the most widely viewed sporting event in the world, with an estimated 715.1 million people watching the 2006 tournament final.[1] Mexico holds the record for most 2nd round eliminations.[2][3]
Records[edit]
By match[edit]
World Cup
Round
Against
Score
Scorers
1930
Group Stage
 France
1-4
Carreño
 Chile
0–3
 Argentina
3-6
Manuel Rosas (2), Gayón
1950
Group Stage
 Brazil
0–4
 Yugoslavia
1–4
Héctor Ortiz
  Switzerland
1–2
Casarín
1954
Group Stage
 Brazil
0-5
 France
2–3
Lamadrid, Balcázar
1958
Group Stage
 Sweden
0–3
 Wales
1–1
Belmonte
 Hungary
0–4
1962
Group Stage
 Brazil
0–2
 Spain
0–1
 Czechoslovakia
3-1
Díaz, del Águila, Hernández
1966
Group Stage
 France
1-1
Borja
 England
0-2
 Uruguay
0-0
1970
Group Stage
 Soviet Union
0-0
 El Salvador
4-0
Valdivia (2), Fragoso, Basaguren
 Belgium
1-0
Peña
Quarter Final
 Italy
1-4
González
1978
Group Stage
 Tunisia
1-3
Vázquez Ayala
 West Germany
0-6
 Poland
1-3
Rangel
1986
Group Stage
 Belgium
2-1
Quirarte, Hugo Sánchez
 Paraguay
1-1
Luis Flores
 Iraq
1-0
Quirarte
Round of 16
 Bulgaria
2–0
Negrete, Servín
Quarter Final
 West Germany
0–0 (AET), 1-4 (p)
1994
Group Stage
 Norway
0-1
 Republic of Ireland
2–1
García (2)
 Italy
1-1
Bernal
Round of 16
 Bulgaria
1-1 (AET), 1-3 (p)
García Aspe
1998
Group Stage
 South Korea
3–1
Peláez, Hernández (2)
 Belgium
2–2
García Aspe, Blanco
 Netherlands
2–2
Peláez, Hernández
Round of 16
 Germany
1-2
Hernández
2002
Group Stage
 Croatia
1-0
Blanco
 Ecuador
2-1
Borgetti, Torrado
 Italy
1–1
Borgetti
Round of 16
 United States
0-2
2006
Group Stage
 Iran
3–1
Bravo (2), Zinha
 Angola
0–0
 Portugal
1-2
Fonseca
Round of 16
 Argentina
1-2 (AET)
Márquez
2010
Group Stage
 South Africa
1-1
Márquez
 France
2-0
Javier Hernández, Blanco
 Uruguay
0-1
Round of 16
 Argentina
1-3
Javier Hernández
2014
Group Stage
 Cameroon
1–0
Peralta
 Brazil
0-0
 Croatia
3-1
Márquez, Guardado, Javier Hernández
Round of 16
 Netherlands
1-2
G. Dos Santos
Record Players[edit]
Mexican goalkeeper Antonio Carbajal has appeared in five different FIFA World Cups, a record he shares with German midfielder Lothar Matthäus.
No.
Name
Matches
World Cups
1
Rafael Márquez
16
2002, 2006, 2010 and 2014
2
Antonio Carbajal
11
1950, 1954, 1958, 1962 and 1966
Cuauhtémoc Blanco
11
1998, 2002 and 2010
Gerardo Torrado
11
2002, 2006 and 2010
5
Carlos Salcido
10
2006, 2010 and 2014
6
Chava Reyes
9
1958, 1962 and 1966
7
Hugo Sánchez
8
1978, 1986 and 1994
Jorge Campos
8
1994 and 1998
Claudio Suárez
8
1994 and 1998
Alberto García Aspe
8
1994, 1998 and 2002
Jesús Arellano
8
1998, 2002 and 2006
Top Goalscorers[edit]
References[edit]
External links[edit]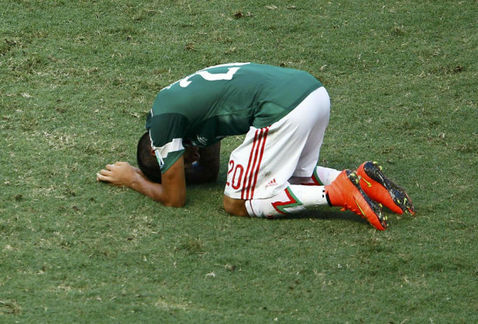 Image source: laaficion.mileno.com
Call it a curse. Call it bad luck. Blame it on the ref. For the sixth straight World Cup, Mexico crashed out in dramatic fashion in the Round of 16, leaving Mexicans bewildered at its national team's chronic inability to win the crucial fourth game (Mexico has done it only once, in 1986, at home). The similarity of some of these defeats is scary. In 1998, Mexico also built up an early second-half lead against Germany only to squander it 15 minutes before the final whistle. And in 2006, Mexico also struck first against a powerful Argentina squad which tied it shortly afterwards. The game was then dragged into overtime during which an impressive strike by Maxi Rodriguez (later voted goal of the tournament) sent us packing home. History seemed to repeat itself on Sunday in the steamy equatorial heat of Fortaleza after Holland erased a Mexican lead at the 88th minute, and then scored a winner in stoppage time on a questionable penalty. An ugly win, but a win nonetheless.
Few people on this Earth relish self-analysis the way Mexicans do, and the country's football failures are an endless source of national introspection. "We played like never before, and lost like always" is one such phrase coined after numerous defeats. Then of course, there's the "ya merito" ("almost there"), applied not just to football but to every other national disappointment, such as when economic booms turn into crises. For most Mexicans, what happened on the pitch during those 90+ minutes represented more than just the playmaking and tactics of 11 men and their coach, but a microcosm of Mexico's main ethno-psychological issues (real or perceived). One is a fear of greatness, as if the invisible arms of our national psyche once again held us back when on the brink of glory. The other is the feeling constant victimization. Whether it's the US annexing half of Mexico's territory, or being invaded by Napoleon III, or Arjen Robben faking a foul to get a penalty, there's always some exogenous conspiracy that keeps us in our rightful place.
Is psychology really to blame?
Let's look at the Dutch. If there are any perennial losers in football, it's the feared Oranj: No other country in the world has made it to the World Cup final three times only to lose them all. Yet these defeats don't seem to hang on the collective consciousness of the Dutch the way Mexico's less dramatic defeats hang on ours. Another Mexican national trauma is the penalty shootout: in both the 1986 and 1994 World Cups, Mexico was eliminated on spot kicks. Yet England has lost on penalties six times out of seven during major international competitions including three times in the World Cup. Yes, the English lament and joke endlessly about their penalty fiascos but you'll never hear anyone in England associate these failures as representative of some underlying deficiency in the national character. Our obsession is more surprising given that the country's record on penalties is actually not as shoddy as most Mexicans believe: Mexico has won 2 out of 3 shootouts in the Copa América, 1 out of 2 in the Confederations Cup, and also 1 out of 2 in the Gold Cup. That's a better percentage than England (or the Dutch who are also known for their penalty defeats) in their respective regional and international contests.
Dig deeper and you'll find plenty of other streaks in football (and in any other sport for that matter) that without much imagination could be inflated out of complete proportion to their significance. Why we always choose the negative interpretation is only because of convenience; surely if we are to make mountains out of molehills from our second round defeats then perhaps Mexicans should think something positive of our winning record against Brazil over the past decade and a half. Could we not ascribe this to our superior productivity and economic competitiveness? Should this not settle the score on regional leadership while we're at it? Ultimately, people see in football what they want to see. When Mexico wins a major game, it is because of the effort and skill of the players and the coach. When Mexico loses, it's the collective failure of 110 million people, seemingly genetically conditioned to accept mediocrity. The story is reversed when it involves a country we admire, like Germany. We see Teutonic efficiency in their every victory, which reminds us of their economic prowess and industrious character. But when mighty Germany gets eliminated for the umpteenth time by "lazy" Spain or Italy, it's just football.
Our real national sport
It is telling that over-analysis is not just shared by the layperson but by generations of Mexican intellectuals that have tried to find the key to our underdevelopment inside our peculiar ethno-psychology. These go back to philosopher Samuel Ramos early in the 20th century, to psychologist Rogelio Díaz-Guerrero, and to Nobel Laureate Octavio Paz whose most widely known work, The Labyrinth of Solitude, is essentially an essay on Mexican identity. Most recently, Jorge C. Castañeda has chipped in to the debate, going so far as to devoting a part of his last book (Mañana Forever?) to analysing Mexico's sports failures in the context of identity. One has to really question whether this is time well spent, and whether the answers actually lie elsewhere. Following Occam's razor, could we not conclude that Mexico's football fiascos are simply because we're not that good? And that we're not that good because the system of finding the best players, grooming them, and polishing them into world-class athletes falls short compared to other countries? Mexico has, after all, won a pair of Under-17 world championships and an Olympic gold. In this respects, the country appears to have much more in common with African teams, who frequently win at the Under-17 level but don't achieve much beyond that. Is this a psychological problem, or an institutional one? Will we forever think our national problems boil down to how we are rather than how we do things?
Ultimately, football matters little in the grander scheme of things (although as Argentinean legend Jorge Valdano once said, "it is the most important among the least important things"). But Mexicans would be wise to stop thinking that our collective character flaws and the imagined conspiracies against us have sealed our fate as a nation, both on the pitch and outside of it. Our worst habit may not be hidden in volumes after volumes of self-analysis and introspection, but rather in the act of self-analysis itself. Perhaps we, as a people, should start pondering less about the perceived defects in our national identity and realize that these may not be the cause of our problems (bad politics, economic mismanagement, corruption etc.) but rather a result of them.
Follow the EIU's Latin America team @TheEIU_LatAm and the author @raguileramx